Make Many Robots
Regular price
Rs. 1,016.10
Regular price
Rs. 1,270.34
Sale price
Rs. 1,016.10
Unit price
per
Sale
Sold out
Introducing our hand-operated XY plotter - the perfect tool for young engineers and artists! This mechanical device allows kids to learn the basics of computer-aided design (CAD) and robotics through hands-on play.
With just two knobs, kids can easily plot points and draw lines to create intricate designs. The plotter's durable construction and safety features ensure that it can withstand the creative energy of any young inventor.
Whether they're creating diagrams, designing their own greeting cards, or just having fun, kids will love the endless possibilities of our XY plotter. So why wait? Get your hands on one today and watch your child's imagination run wild!
Encourages independent play, helps boost kids' hand-eye coordination all the whilst being a helluva lot of fun.

30 minutes of DIY stimulate out-of-the-box thinking and logical reasoning.

Spatial visualisation is being exercised.

Simple math concepts like a number line, coordinates, slope, axis, origin, slopes and points can be understood through this hands-on practical tool.
Everything you need to build this model is included. even Batteries & screwdriver.
The model is made from natural wood, splinter-free, acid and emission-free and Child-friendly material.
Precision Laser cut boards, pop out each component from the pre-cut boards.
Share
View full details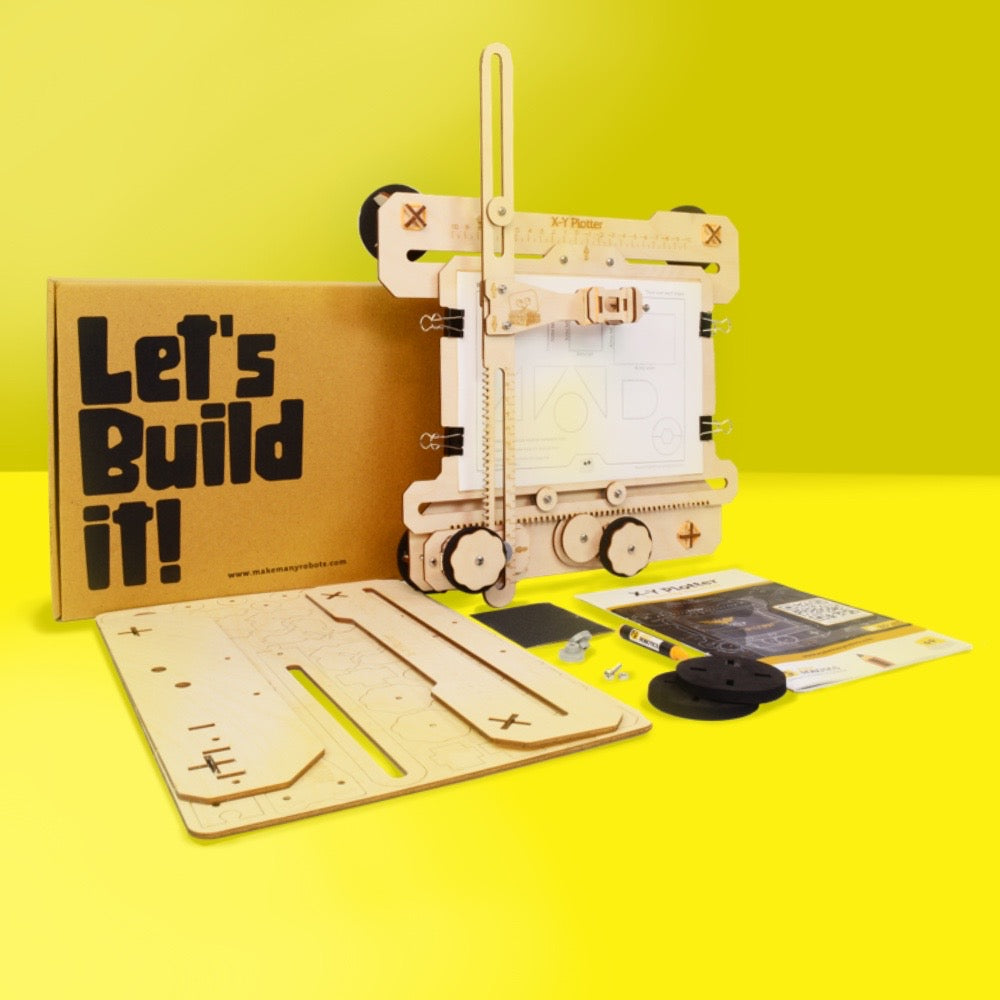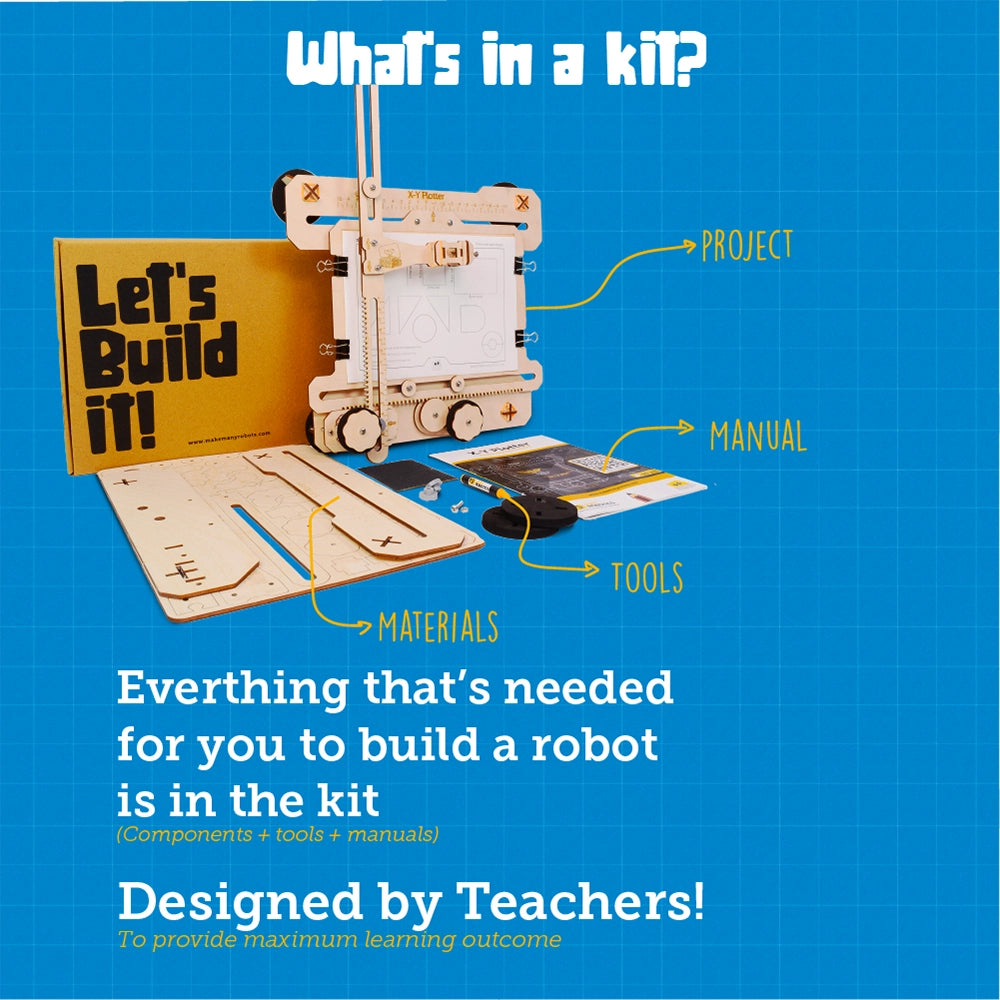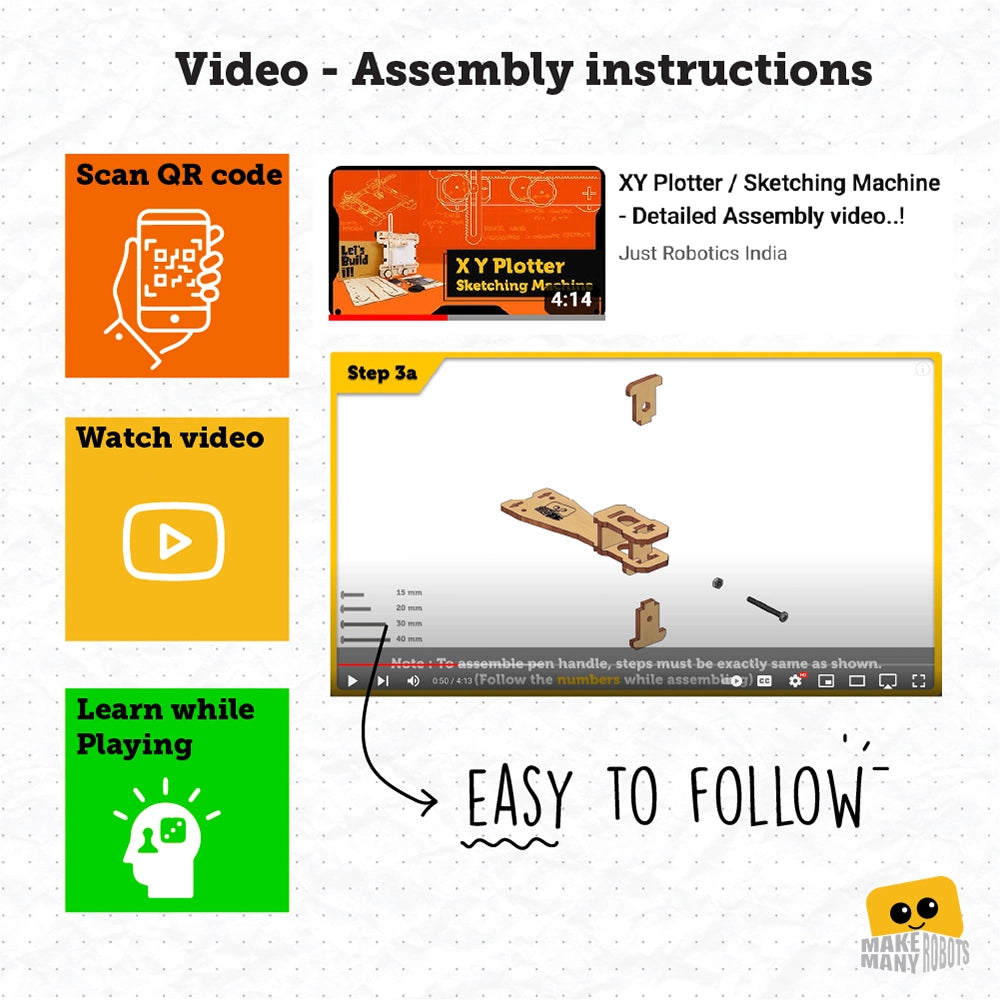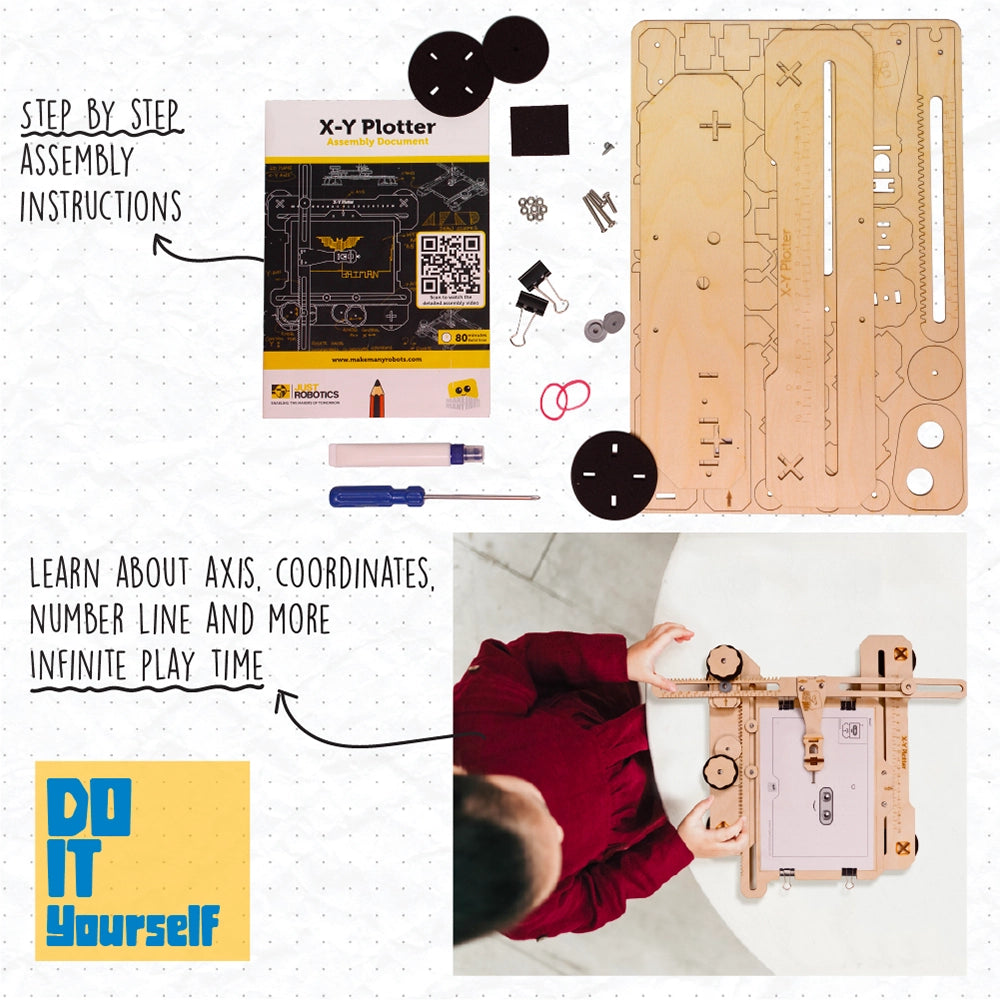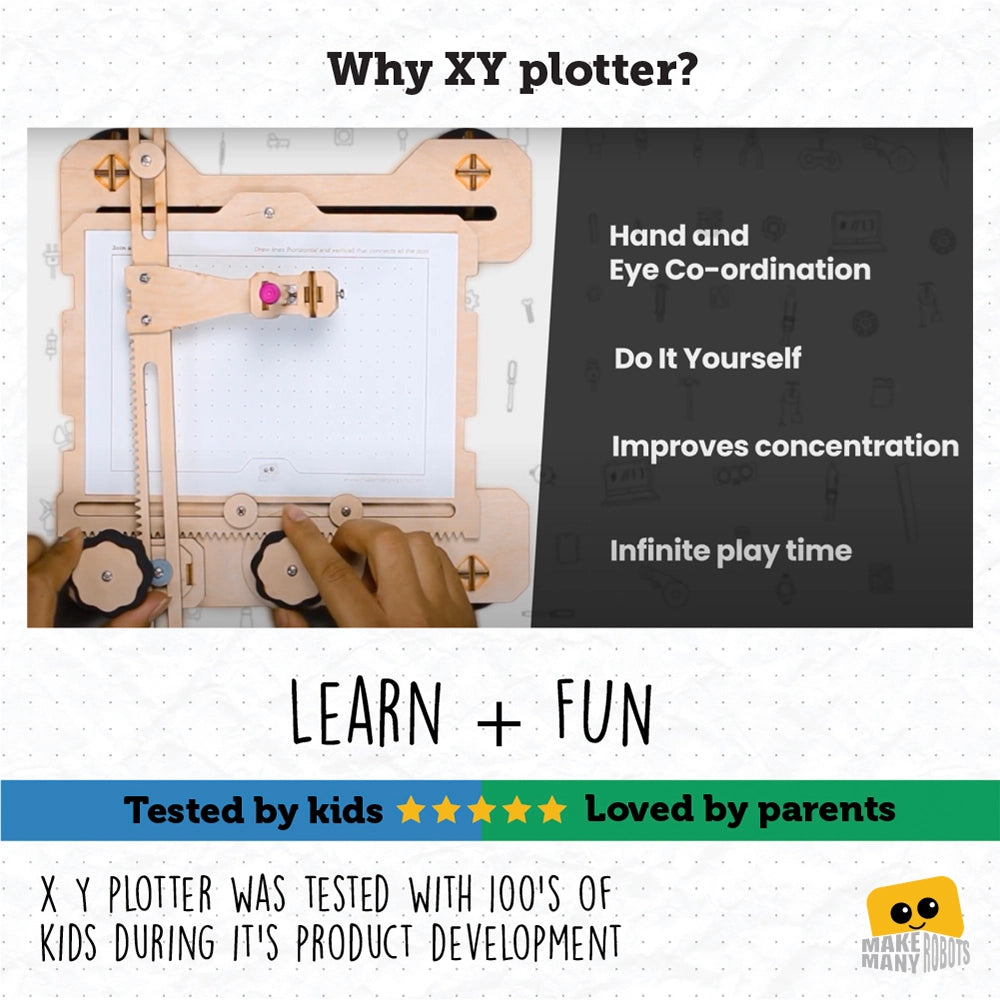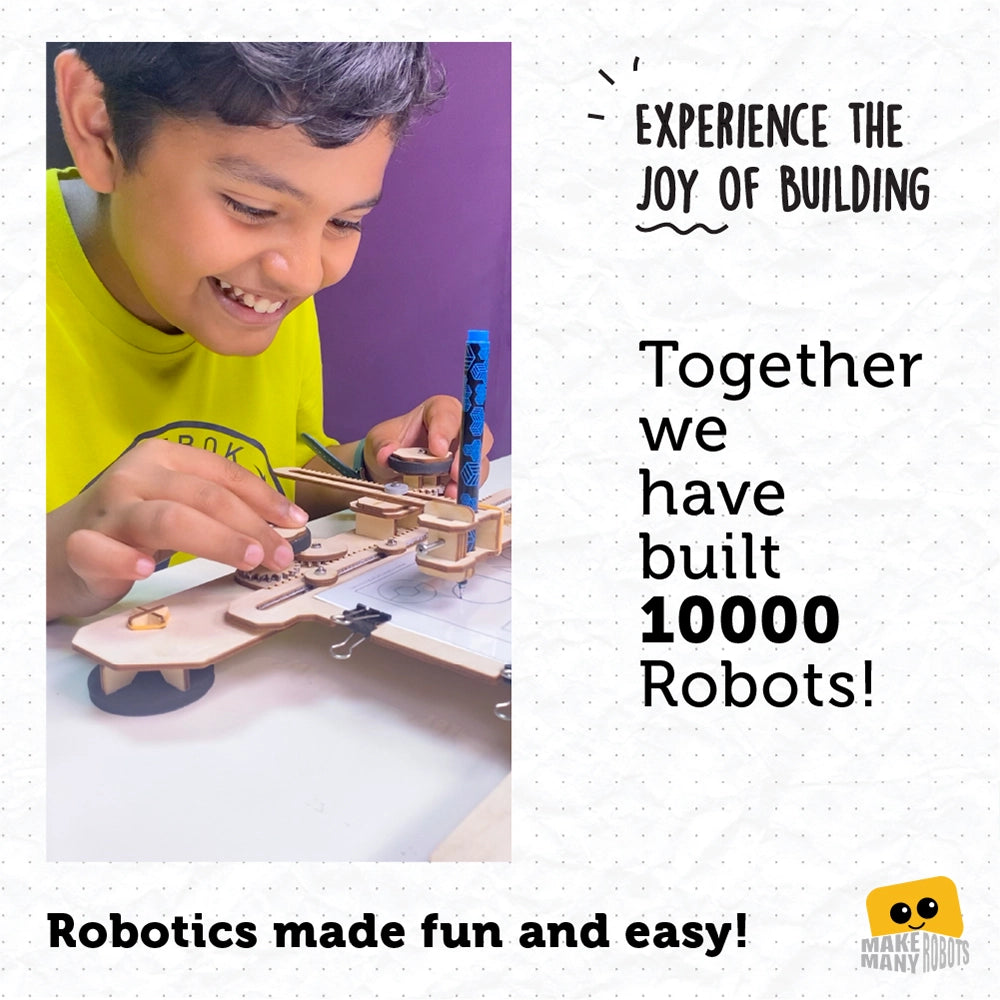 FAQ's
Can a 6 year old build all that by himself?

Yes and No, they would certainly require some guidance and handholding, remember they are just starting out.
What if some part is broken or go missing?

You can contact us and let us know which part. We ship the replacement part for free or at a minimal cost depending on the situation
Is Robotics really required for the kid? at such a young age?

Definitely yes! It depends on what and how they are being introduced to these subjects, time is drastically changing and only thing we can do is lay a strong foundation.
When is the ideal time to start Robotics?

As soon as they start developing fine motor skills, one can get started with DIY projects.

About 7-8 years most of them are ready for it.
What happens if they start learning robotics? Why Robotics?

Robotics is a practical way of learning.

Improves scientific inquiry.

Overall understanding of the systems and the way things work

Logical thinking and logical deduction get greatly enhanced.

Studies clearly show that children of age 8 are more creative compared to 16-year-olds.