Make Many Robots
Regular price
Rs. 1,186.44
Sale price
Rs. 846.61
Unit price
per
Sale
Sold out
Build 7 unique projects for children of ages 7+
Supervision and help might be required at times
Includes assembly instruction manual and a video link to watch and build these projects.
Everything that's required to build these is included in the box, including glue, screwdriver sketch pens so you don't need to source anything separately.
Zoetrope:

animation machine


Spin art machine:

create beautiful drawings


Shooter:

rubber band powered shooter


Springbot:

a mechanical assembly to explore joints


Rope climber:

defy gravity and make the robot climb the rope


Friction climber:

use friction and climb the rope


Catapult:

see if you can take aim and knock down targets

Benefits: These experiments develop motor skills and hand-eye coordination in kids, once they finish building they will have hours of playtime and fun.
Making them fall in love with DIY projects. which builds confidence and scientific inquiry, qualities that are essential for any budding enthusiast.
We have tested these with school kids in classroom environments and also sold hundreds of these, so we know how challenging this is for the kids.
Share
View full details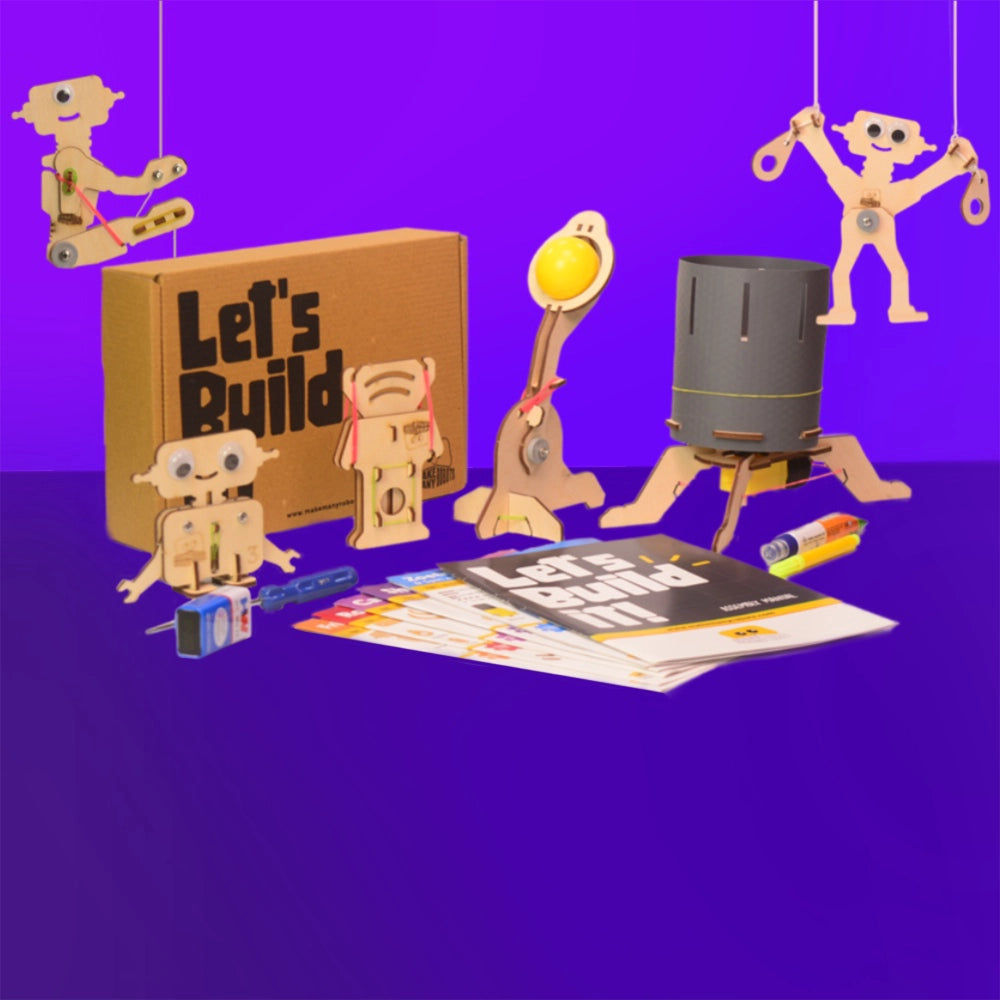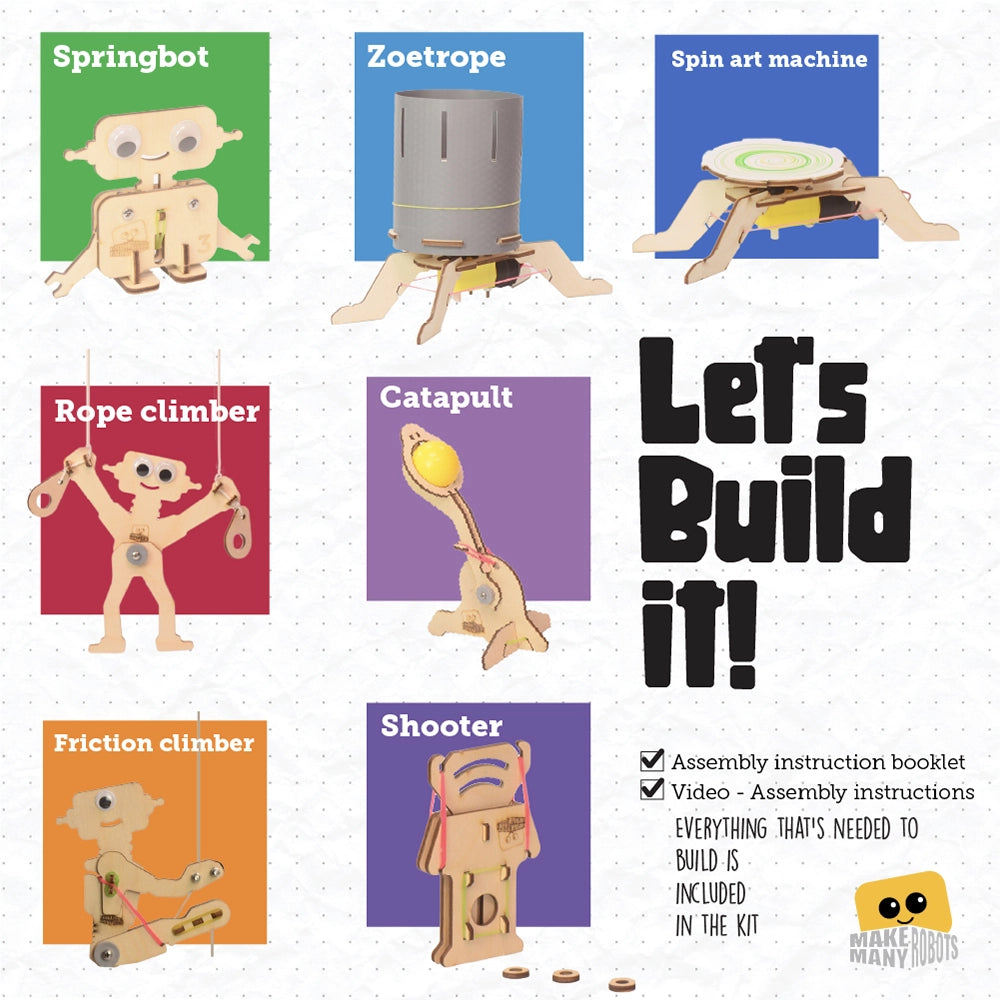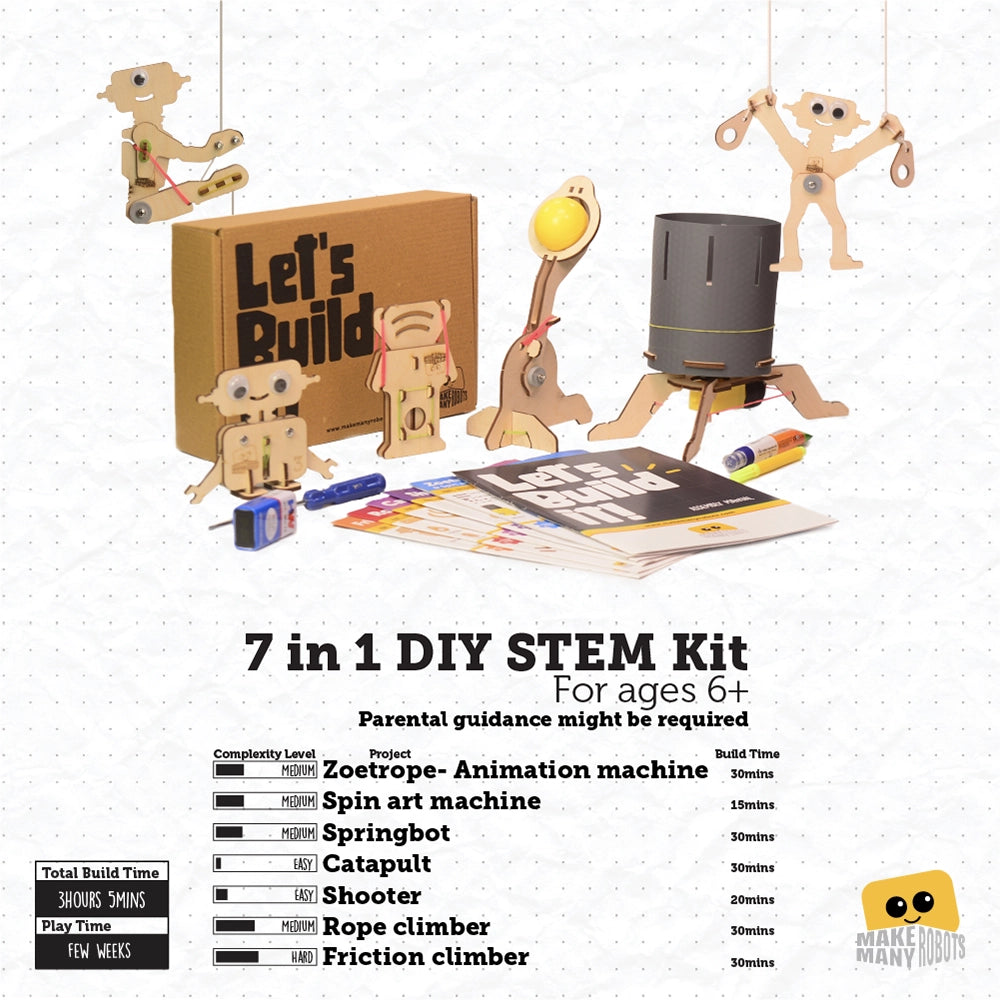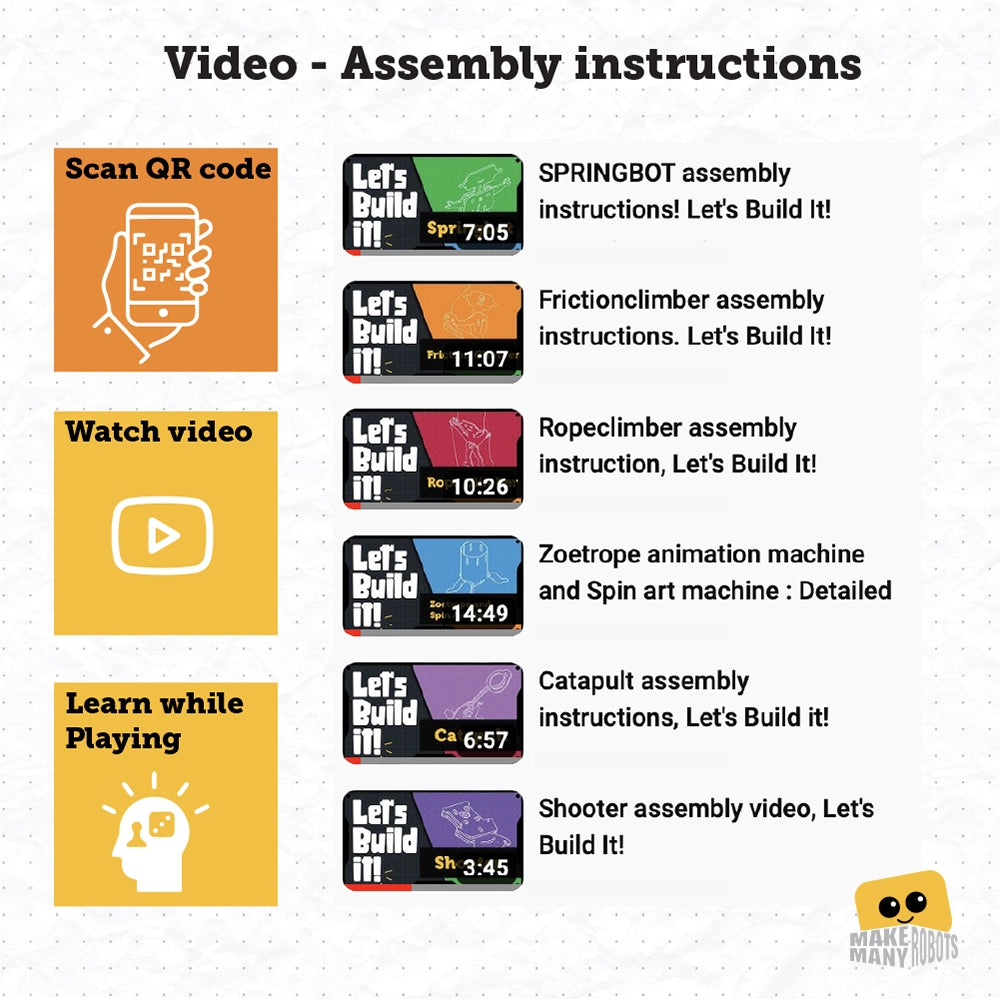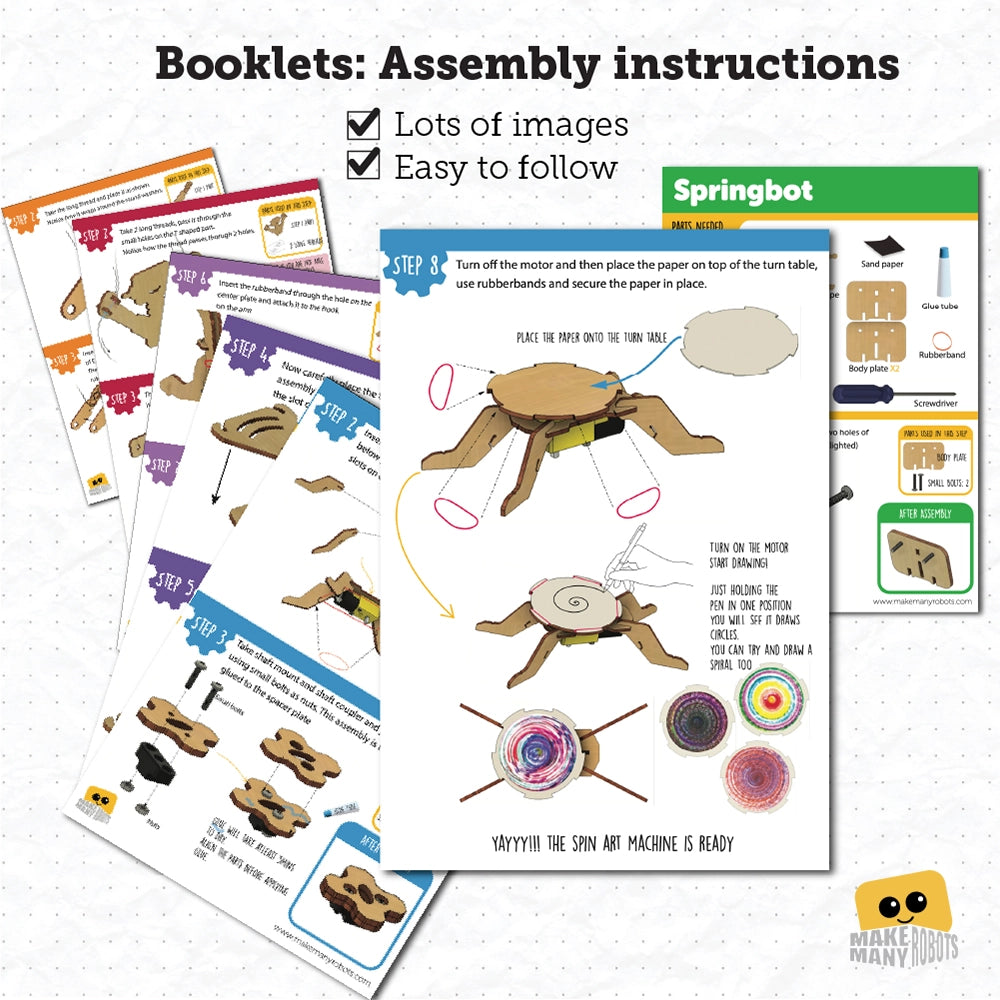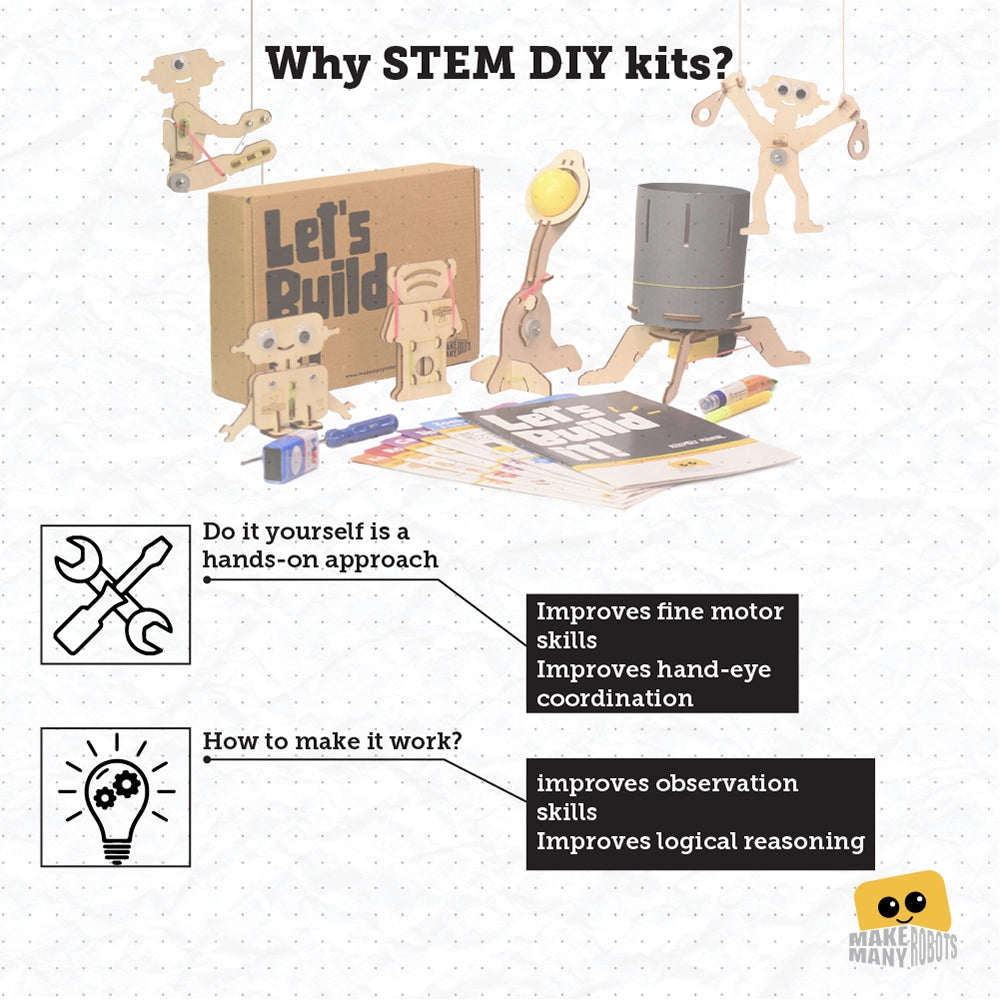 FAQ's
Can a 6 year old build all that by himself?

Yes and No, they would certainly require some guidance and handholding, remember they are just starting out.
What if some part is broken or go missing?

You can contact us and let us know which part. We ship the replacement part for free or at a minimal cost depending on the situation
Is Robotics really required for the kid? at such a young age?

Definitely yes! It depends on what and how they are being introduced to these subjects, time is drastically changing and only thing we can do is lay a strong foundation.
When is the ideal time to start Robotics?

As soon as they start developing fine motor skills, one can get started with DIY projects.

About 7-8 years most of them are ready for it.
What happens if they start learning robotics? Why Robotics?

Robotics is a practical way of learning.

Improves scientific inquiry.

Overall understanding of the systems and the way things work

Logical thinking and logical deduction get greatly enhanced.

Studies clearly show that children of age 8 are more creative compared to 16-year-olds.