Make Many Robots
Regular price
Rs. 2,541.53
Regular price
Rs. 8,473.73
Sale price
Rs. 2,541.53
Unit price
per
Sale
Sold out
Our program is perfect for children ages 8-14 who are interested in learning more about robotics and how electronics play a crucial role in this field. Also for those who have completed level 1 robotics.
During the two-month program, your child will learn basic electronics and create over 30 circuits using the components we provide. They'll have the opportunity to learn and experiment with the components practically, as well as simulate the circuits on Tinkercad. Morse code, conductivity tester, LFR, and LED piano are just a few of the exciting projects they'll get to work on.

Our Level 2 program builds on the basics of mechanics learned in Level 1 and focuses on the electronics aspect of robotics. The program comes with two kits, which are delivered monthly, and include all the necessary components to complete the projects. Your child will have the chance to work on the projects at their own pace and submit assignments to earn a course completion certificate.
Projects:  
30+ Circuits building using electronics components given


Simulation of these circuits and 

trying out more circuits on software called tinkerCAD.

Line Following Robot

Morse code experiment

LED piano and LED greeting card

Using a multimeter to measure various parameters
In addition to the practical learning, your child will attend weekly live sessions of 60 minutes, led by our expert mentors. The program is designed to be flexible, allowing your child to discontinue after one month or complete the full two-month program.

Ready to give your child an exciting and educational experience with our Level 2 Robotics Foundation Program?
Sign up today and watch them develop their skills and knowledge in robotics and electronics!
Share
View full details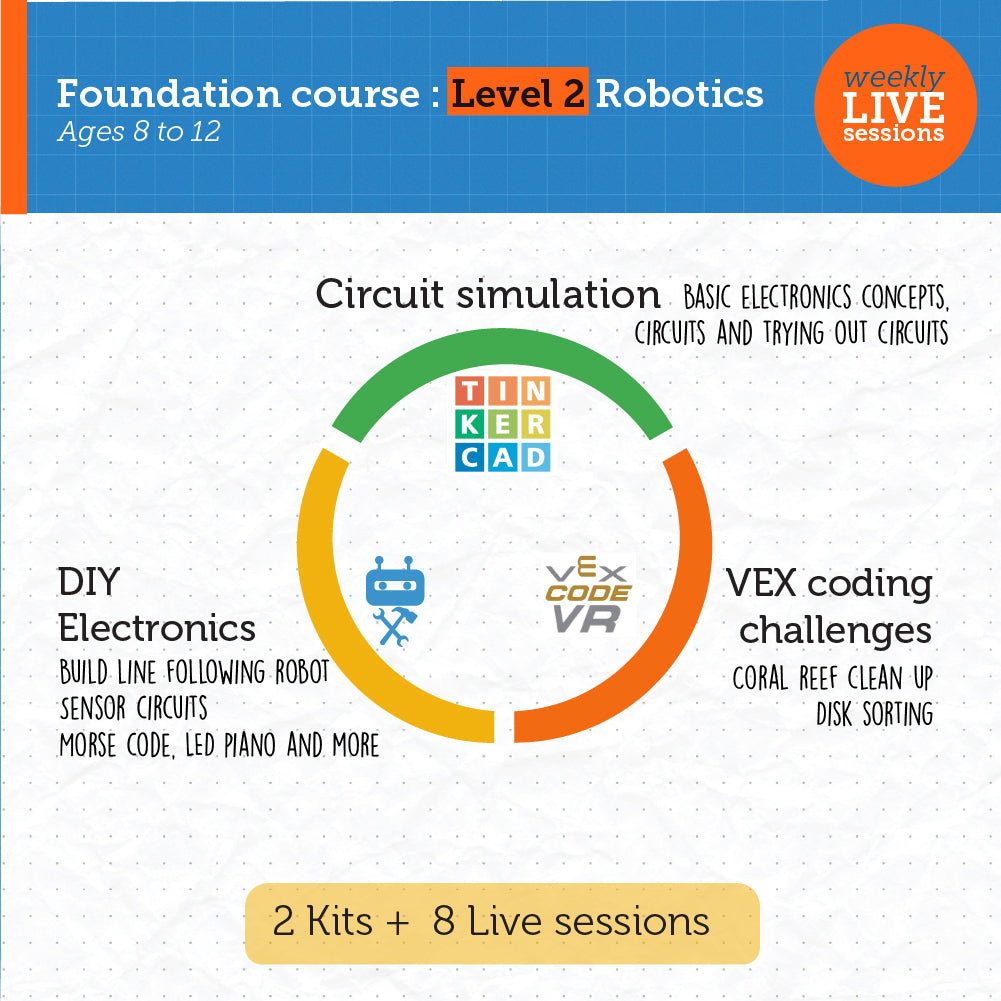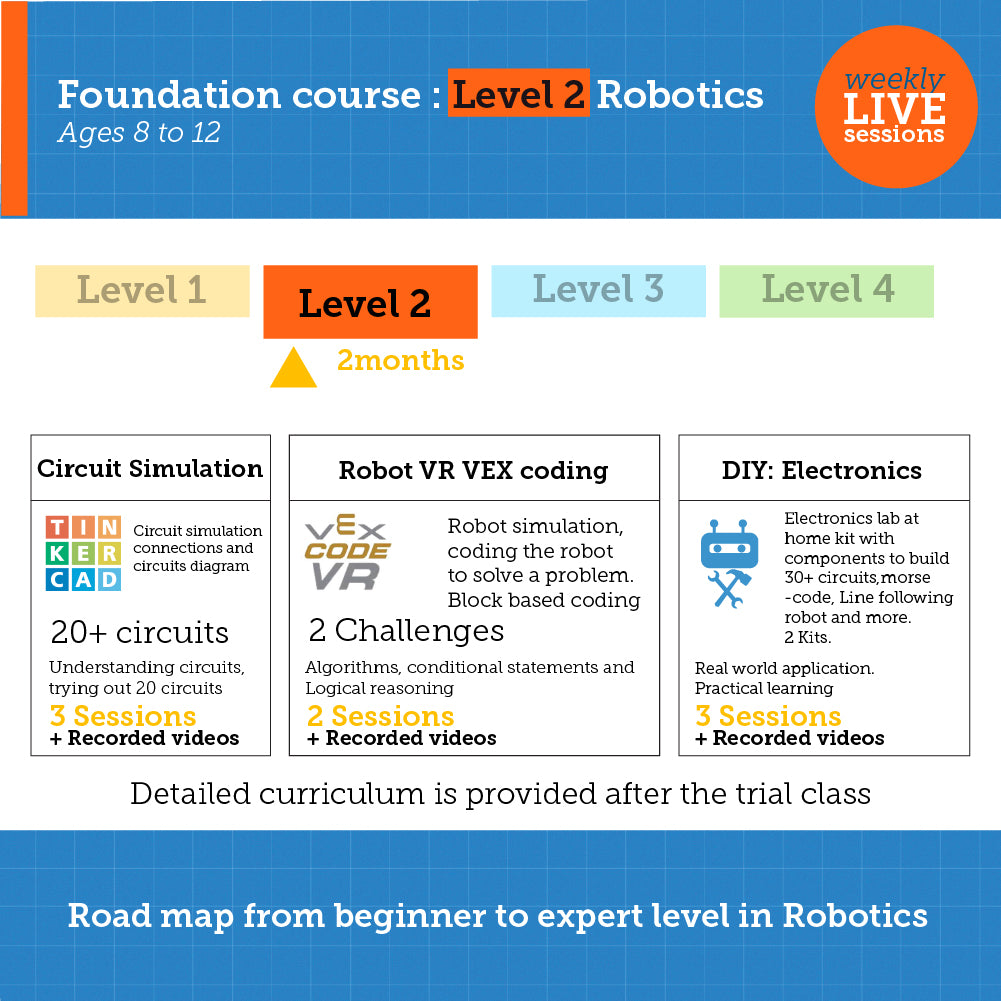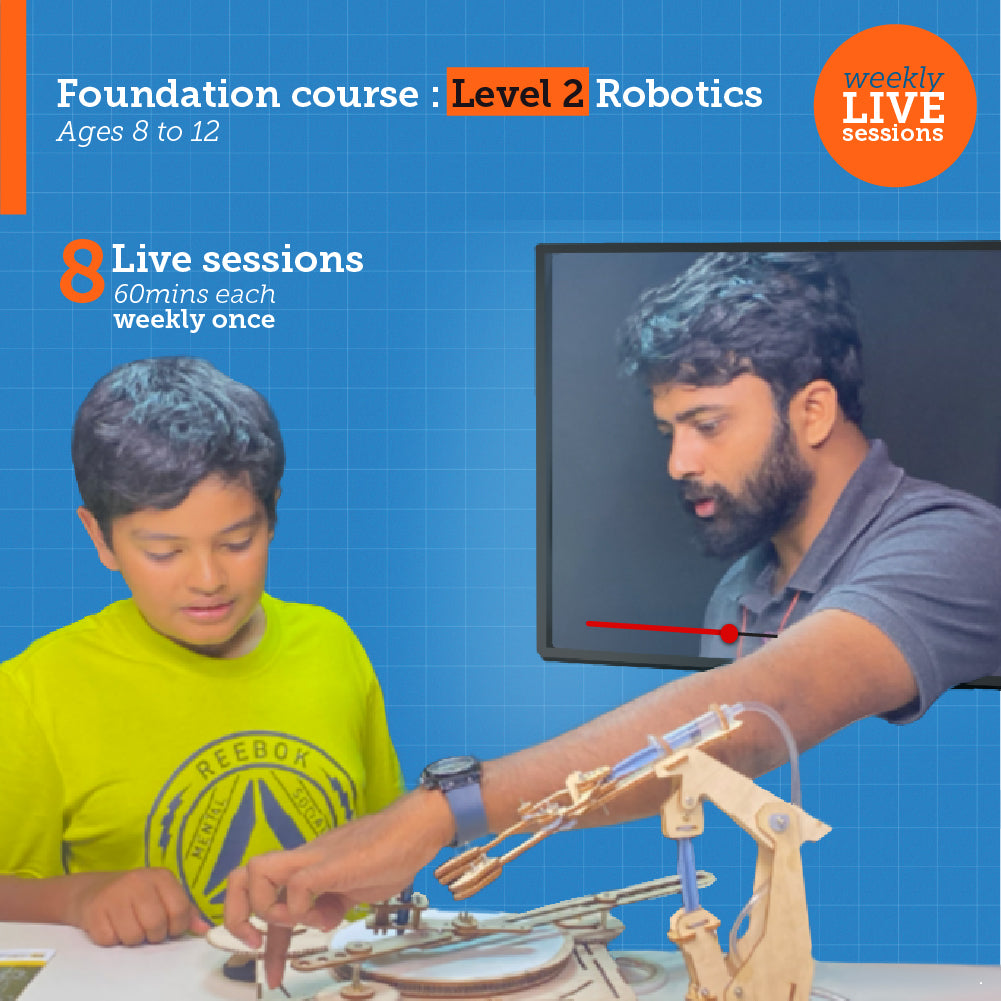 FAQ's
Can a 6 year old build all that by himself?

Yes and No, they would certainly require some guidance and handholding, remember they are just starting out.
What if some part is broken or go missing?

You can contact us and let us know which part. We ship the replacement part for free or at a minimal cost depending on the situation
Is Robotics really required for the kid? at such a young age?

Definitely yes! It depends on what and how they are being introduced to these subjects, time is drastically changing and only thing we can do is lay a strong foundation.
When is the ideal time to start Robotics?

As soon as they start developing fine motor skills, one can get started with DIY projects.

About 7-8 years most of them are ready for it.
What happens if they start learning robotics? Why Robotics?

Robotics is a practical way of learning.

Improves scientific inquiry.

Overall understanding of the systems and the way things work

Logical thinking and logical deduction get greatly enhanced.

Studies clearly show that children of age 8 are more creative compared to 16-year-olds.