Make Many Robots
Regular price
Rs. 2,541.53
Regular price
Rs. 3,812.71
Sale price
Rs. 2,541.53
Unit price
per
Sale
Sold out
This 2-month course is divided into 2 equal parts and you get to enrol for just 1 month and continue only if your child is learning and having fun.
This is for any kid who is energetic and enthusiastic about technology, curious, always asks questions and is hands-on and likes to play games and build stuff.

This course gives exposure to basic coding(Scratch), 3D modelling and the basics of the mechanics of robotics, this information-dense course is a good starting point for anyone who is just starting with robotics.
Your kid will build:
5 games: coded in SCRATCH.

8 unique 3D models: designed in TinkerCAD.

DIY Projects like: Hydraulic gripper, hydraulic jack, gear system, rubber band car and an awesome remote control car.
Live interactive sessions are the best to learn software and we are offering weekly 60mins sessions, here they learn programming and 3D modelling skills using the software.
Live interactive sessions are conducted by teachers who have a minimum of 6+ years of experience in teaching.
Live sessions can be up to 1:3 and separate 1on1 calls can also be scheduled to clear doubts.
DIY kits are not toys but tools to engage and learn whilst having fun.
A Laptop with a mouse OR a desktop is a must.
Why this course?
This course is a comprehensive robotics course that covers many aspects of robotics for a beginner. It is refined for 8y ears and tested by more than 1000 students, we have had great reviews from the students and parents and it has helped us refine the curriculum further.
It is also the first step towards a complete road map from a beginner to an expert level.
The most fundamental course there is for a kid to build strong foundational knowledge
Course completion certificate will be awarded only upon completing all the projects assigned.
Share
View full details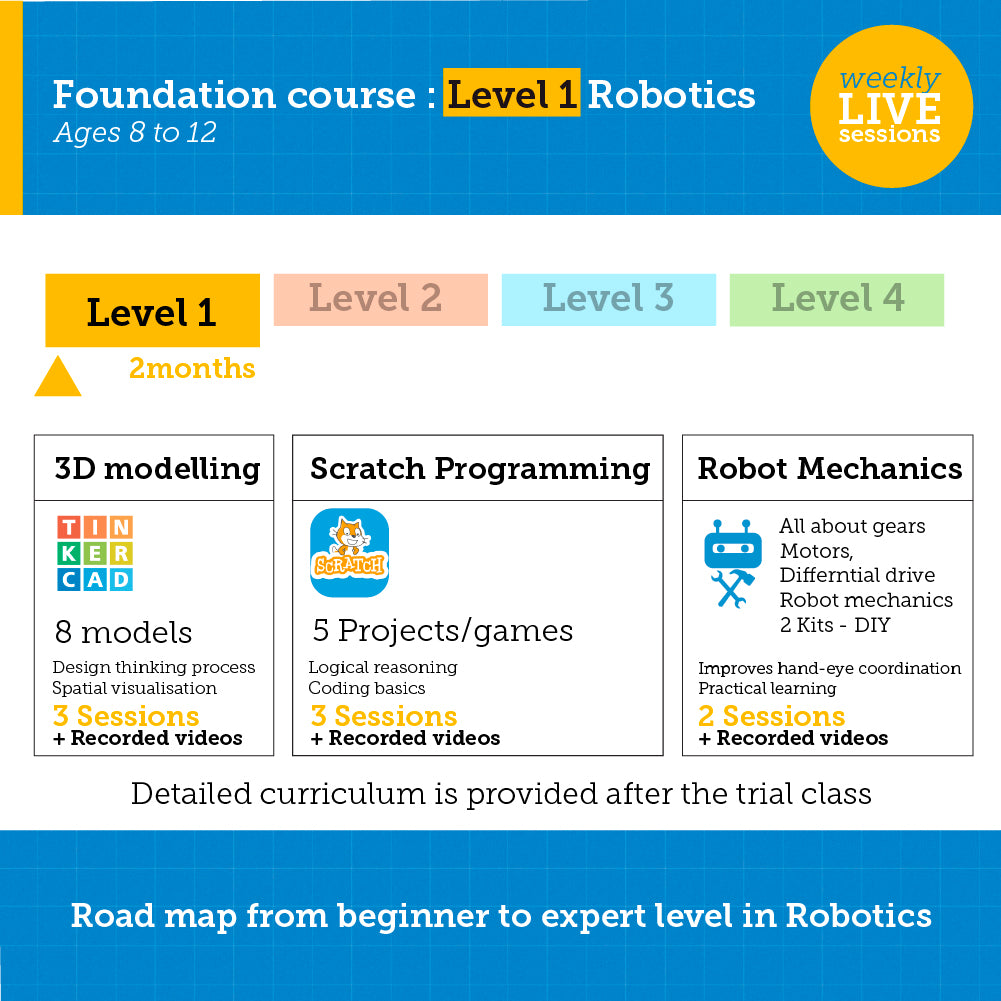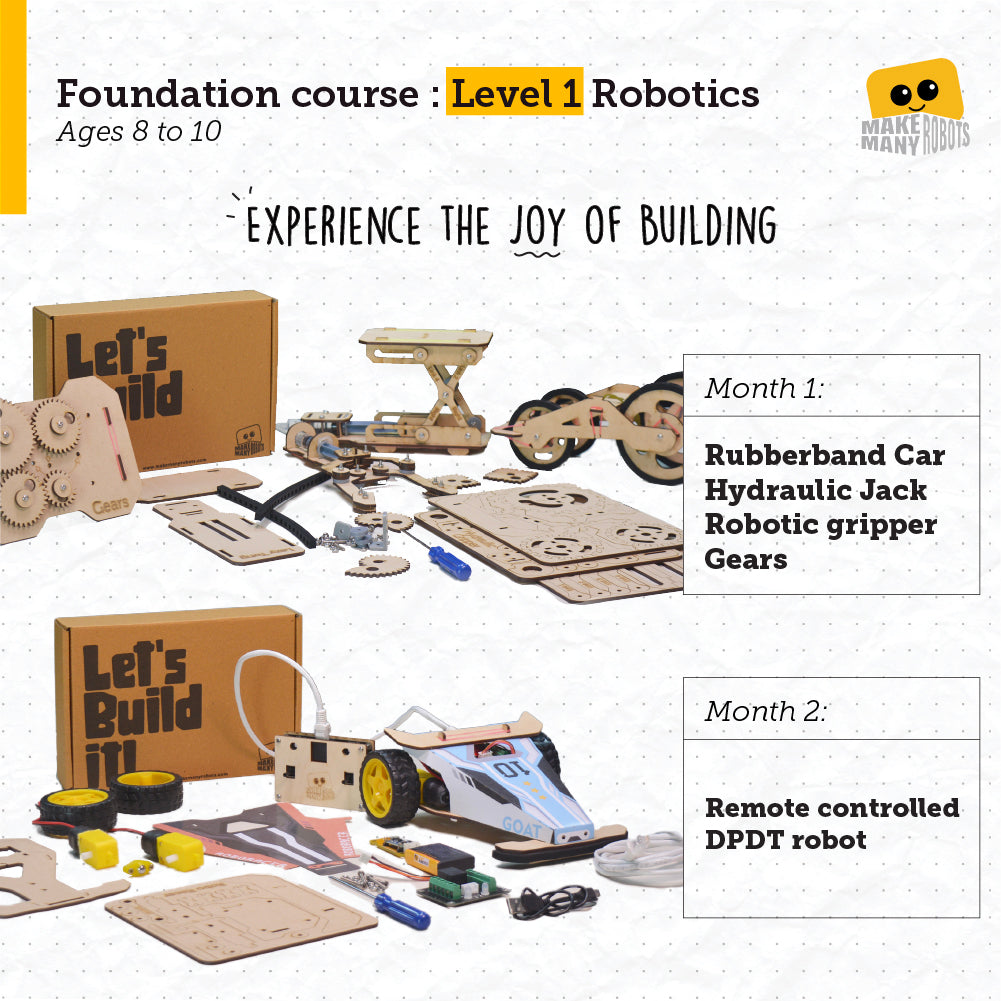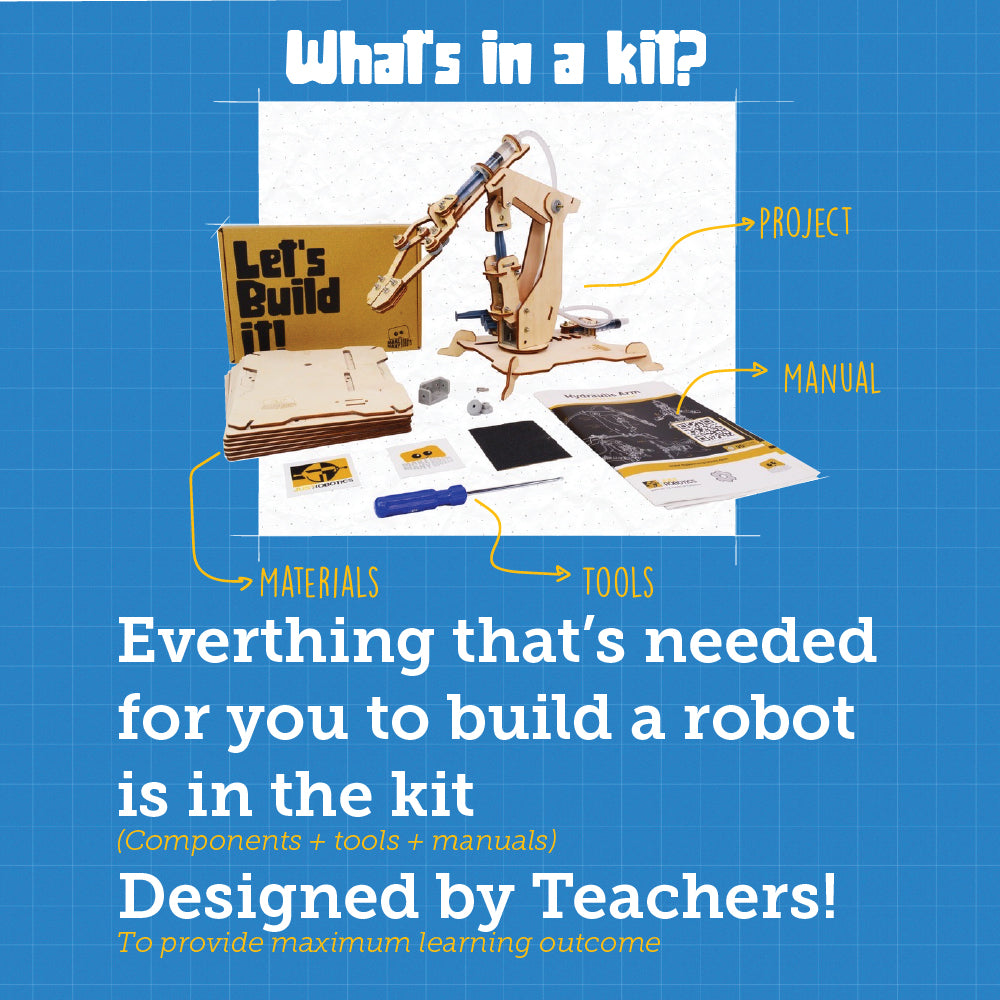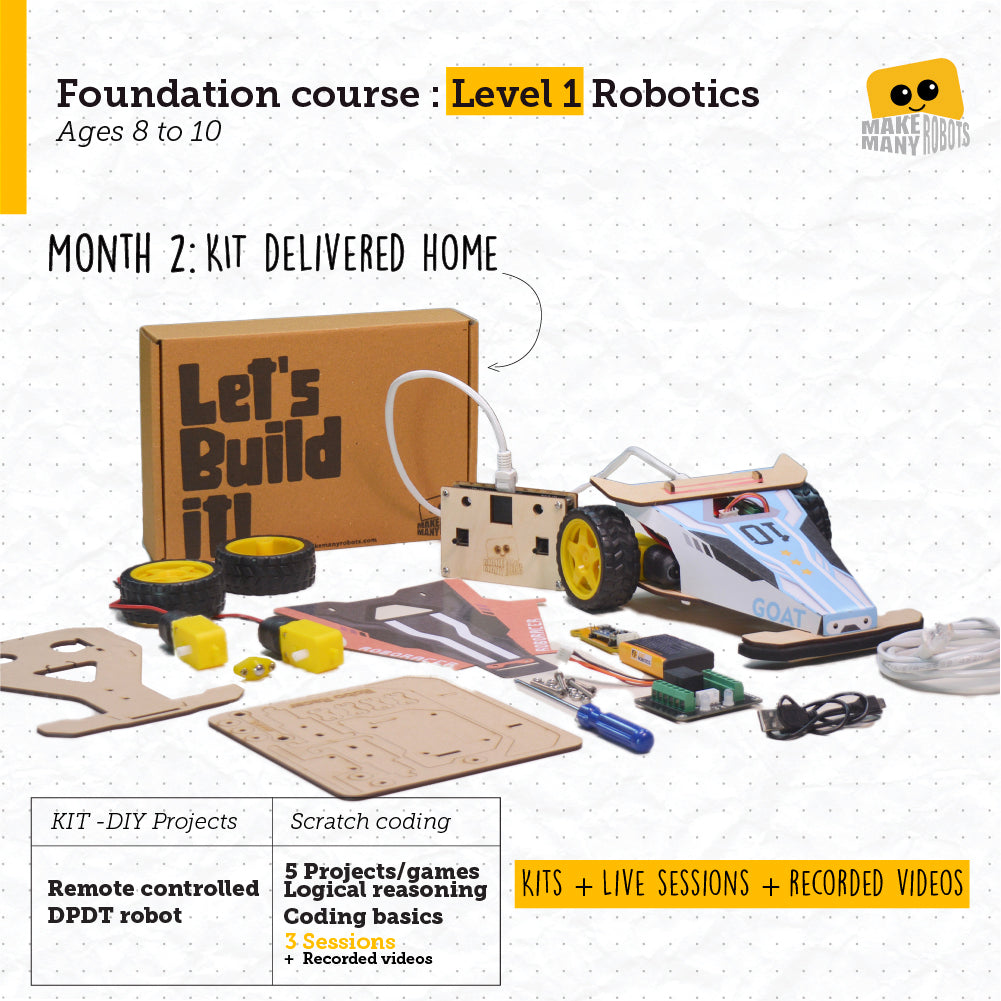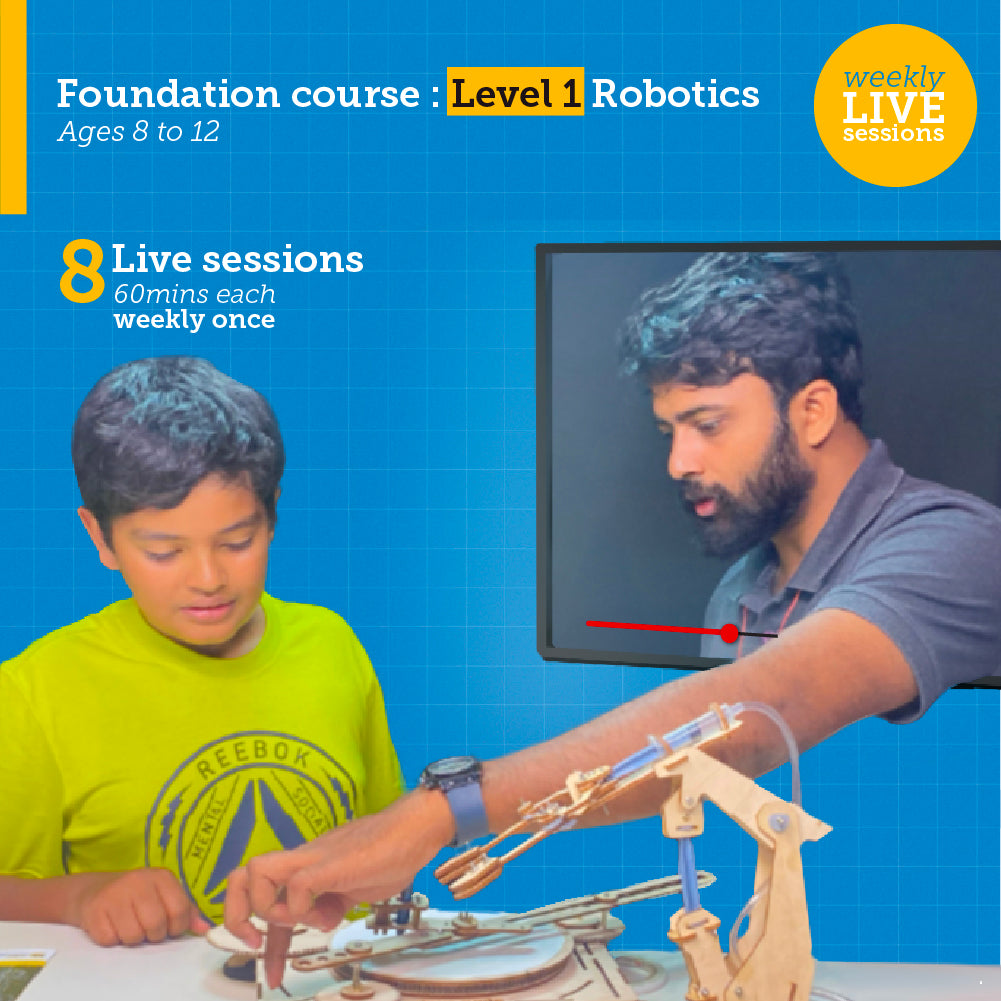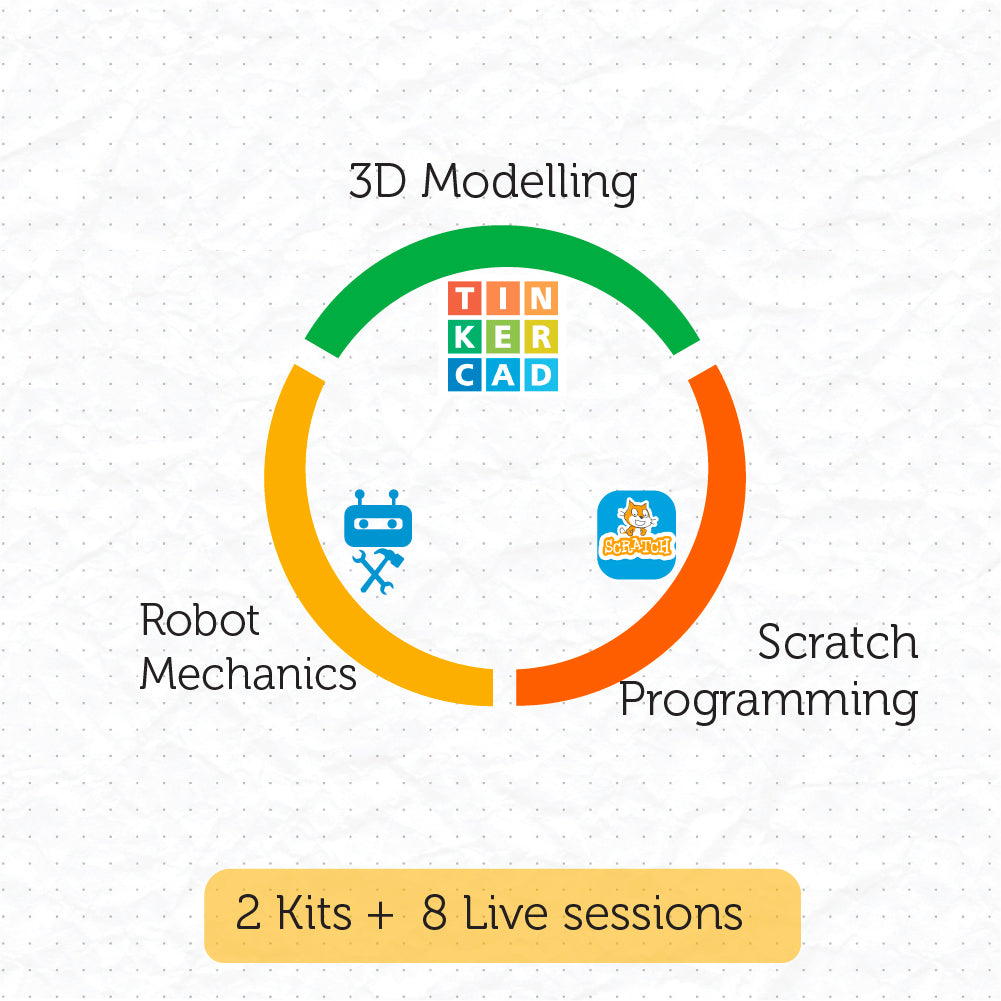 FAQ's
Can a 6 year old build all that by himself?

Yes and No, they would certainly require some guidance and handholding, remember they are just starting out.
What if some part is broken or go missing?

You can contact us and let us know which part. We ship the replacement part for free or at a minimal cost depending on the situation
Is Robotics really required for the kid? at such a young age?

Definitely yes! It depends on what and how they are being introduced to these subjects, time is drastically changing and only thing we can do is lay a strong foundation.
When is the ideal time to start Robotics?

As soon as they start developing fine motor skills, one can get started with DIY projects.

About 7-8 years most of them are ready for it.
What happens if they start learning robotics? Why Robotics?

Robotics is a practical way of learning.

Improves scientific inquiry.

Overall understanding of the systems and the way things work

Logical thinking and logical deduction get greatly enhanced.

Studies clearly show that children of age 8 are more creative compared to 16-year-olds.